Every year I have to rack my brain to think of something sweet and meaningful besides the usual card. Here are some fun and creative ideas from MarthaStewart.com...
Cut a piece of 2-inch-wide grosgrain ribbon 3 inches longer than twice the height of the book; snip a point at each end to prevent fraying. Sew a 1 1/2-inch-by-2-inch photograph to the ribbon by hand-stitching each corner. You might offer the bookmark with a new novel, wrapping the book with colored tissue paper and tucking the bookmark between two pages. Finish the gift with a simple ribbon or string.
Supplies:
Maps

Cutting mat

Round cork coasters

Craft knife

Foam paintbrush

Glue sealant, such as Mod Podge
Steps:
Use brush to apply glue sealant to one side of coaster, covering completely. Adhere back of map circle to coaster, smoothing to remove bubbles.

Brush top and sides of coaster with a thin layer of glue sealant, and let dry. Repeat to make a set.
My friend Kristin, who recently posted about a free vintage artwork website on her blog, gave me the idea of printing out a vintage picture of my dad's favorite animal: the horse. I will be framing it for his desk. I found this one and think she's sexy and the perfect fit for my dad. He had one just like her named Doina, back in Romania.
I had a little time on my hands so I got my dad something he needed for his business. And I will be buying him a book and making a photo bookmark of Leo, my dog.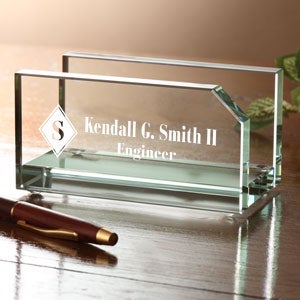 Executive

©

Personalized Business Card Holder $19.95 on sale Personalizationmall.com